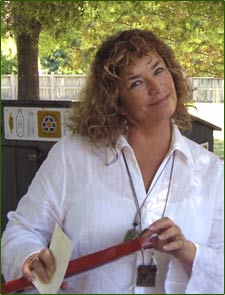 We are certified in Sustainable Landscape Design, Graduate SSU Green Building Landscape Design Program 2008.

Susie Dowd Markarian has more than 25 years of experience in the field of horticulture in the Northern California region. Her first experiences in producing organic food and flowers inspired her to branch into garden maintenance management. Susie became certified in Ornamental Horticulture in 1989, and has taught courses as an adjunct instructor in both horticulture and landscape design. After working several years as lead designer, project manager, and sales representative for an award-winning landscape contracting firm in Northern California, she began her own design firm, specializing in custom landscape design for landscape contractors, developers, and homeowners.
"My experience in working directly with the soil, gives me a very down-to-earth approach to landscape design. I approach my craft with an artistic vision, coupled with a pragmatic sensibility. Truly, the most rewarding aspect of my work comes from creating gardens that will leave lasting impressions while capturing the style and personalities of my clients."
"My ultimate goal is to create gardens and outdoor areas that continue to beckon visitors to explore and experience tranquility within the landscape. Working in collaboration with talented experts in all aspects of landscape installation and maintenance provides the client with a quality product design that will last." Susie Dowd Markarian
Susie's designs have earned numerous industry awards, including a commission with Sunset Books to design several gardens for Sunset's Low Maintenance Gardens, published in 1999.
Susie has been a commissioned board member with the City of Santa Rosa Design Review Board. She was recently selected to create gardens for the HGTV "Landscape Smart."